Yes, I am still very much into the TradFi game as I am into Crypto DeFi/CeFi. I don't believe in zero sum games. I believe that TradFi, DeFi and CeFi can all co-exist.
Having recently crossed the 2 year mark of investing with Autowealth, I thought it might be good to to do a quick review of how my portfolio has performed.
You can read my earlier Review on Autowealth here. You will find out all about the basics, and why I chose Autowealth in that post.
What Has Changed?
Not a lot. I am still invested in the Long Term Growth Portfolio, which does a 20% bonds/80% stocks allocation. Still automating my investment, except instead of monthly investment, I'm investing every 2 weeks. I have also doubled the amount that I've invested since this year.
I've realized that most of my TradFi investments are now automated. My Autowealth, Blue Chip Investment Plan, Kristal.AI, these are all automated. Which makes sense, as it allows me to make time for my crypto investments.
How has my Autowealth Portfolio Performed?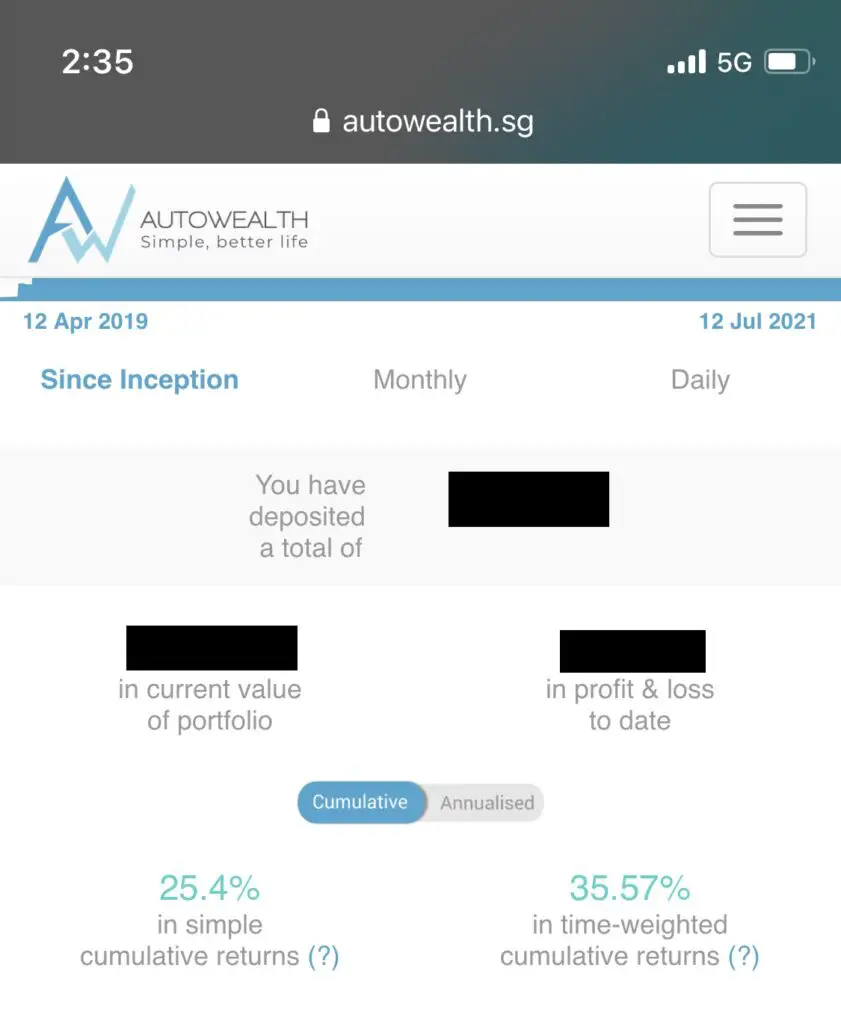 Pretty awesome! I'm up 25% as of 12 July 2021. And remember, this is a portfolio where I do not even monitor. I basically just setup the recurring investment, and forget about it. I login every few months to check how I'm doing. I'm not obsessively tracking it.
I know that there are a lot of people who dislike paying fees for something that they can do manually. But for me, I'm at this point in life now when I'm doing something, I always like to measure the effort/time vs money. And honestly, US$18 and a 0.6% fee on your portfolio is not a lot to pay for this amount of gain.
Rebalancing
On top of automating your investment, Autowealth also does portfolio rebalancing automatically. In these 2 years that I've been using Autowealth, there has been 33 transactions done to rebalance my portfolio. Imagine if I'm to rebalance my account manually, who has time to rebalance a portfolio 33 times?!
Having Your Own Wealth Manager
In my previous review, I failed to mentioned that, when you opened an account with Autowealth, you will be assigned a wealth manager (a real human being, not some chatbot).
Recently I noticed some weird deduction for one of my transaction. So I just contacted him via WhatsApp, and he responded to my query within 10 mins. Which honestly, I think, in this world of technology and time, where almost all support uses a chatbot, it is just nice to have that human touch.
On top of that, they do have their own telegram group, where the CEO Ow Tai Zhi is very active in answering queries from the members.
Conclusion
Having been with Autowealth for 2 years, I'm definitely sticking with them for a while.
Automating my investment is my favorite way of investing as it takes the emotion out of investing. Believe me, I have tried doing it manually, it's hard, simply because humans are emotional.
0.5% + USD18 is a small fee to pay, instead of opportunity cost of not being able to execute your trades due to emotions.
P.S. no referral code to share, as it means giving away my name. Head on to Turtleinvestor's blog if you need one.