If you are looking for a way to automate your investment, OCBC BCIP is a Regular Savings Plan that allows you to buy into individual stocks or ETFs using a dollar cost averaging strategy. This means that you invest a fixed amount of money every month regardless of the market condition. Over time, you get an average cost of the stock/ETF you've invested.
Basic Overview
Fees and Charges:
For customers below age of 30 years old, and with initial investment of $500, the fee will be 0.88%.
For customers above 30, min fee will be at min $5 or 0.3% (which ever is higher) per counter.
Min Investment Amount:
$100
List of Counters Available:

Lion-OCBC Securities Hang Seng Tech ETF
Lion-Phillip S-REIT ETF
Nikko AM Singapore STI ETF
Nikko AM SGD Investment Grade Corporate Bond ETF
CapitaLand Limited
CapitaLand Integrated Commercial Trust
ComfortDelGro Corporation Limited
Keppel Corporation Limited
DBS Group Holdings Limited
Oversea-Chinese Banking Corporation Limited
SembCorp Industries Limited
Singapore Airlines Limited
Singapore Exchange Limited
Singapore Press Holdings Limited
Singapore Technologies Engineering Limited
Singapore Telecommunications Ltd
StarHub Ltd
United Overseas Bank Limited
Wilmar International Limited
Why Did I Invest Using RSP (Regular Savings Plan)
I started investing via OCBC BCIP in 2019. At that time, the market seemed like it was at all time high. I didn't want to do a lump sum investment only to have a crash happening in the next couple of months. That's when I decided I want to just do dollar cost averaging using RSP. This way, I can be in the market, and also be able to pick up more cheap shares should the market tank.
Why Did I Choose OCBC BCIP?
I had a blue chip stock in mind that I have been wanting to buy. And this blue chip stock was in the list of counters offer by OCBC BCIP. The other platform that offers RSP on individual stocks is POEMs Shares Builder. DBS Invest Saver and FSMOne offers only ETFs or Unit Trust.
I went with OCBC BCIP because I already had an OCBC savings account. so signing up with the blue chip investment plan was only a few clicks away via internet banking
Lastly, I was able to invest min $500 on the counter, the buying fee works out to be 1% which seems reasonable to me.
OCBC BCIP Fees
Since I am above 30 years old, the min fee will be at min $5 or 0.3% (which ever is higher) per counter.
As mentioned earlier, I am investing a min. of $500. This works out to be 1% fee.
Looking at the table below, if you are only investing $100, then it will work out to be a 5% fee, which I think is not that worth it. But if you are investing $500 and above, I would say it makes sense to go with BCIP.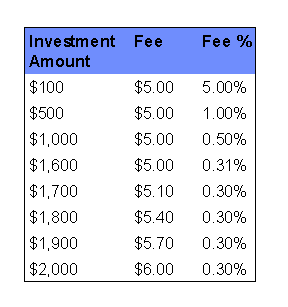 This buy/sell fee is the only fee that you need to pay. There is no annual fee or platform fee.
Signup Process for OCBC Blue Chip Investment Plan
Like I mentioned, this was a breeze for me, as I already had a savings account with OCBC. You can sign up via internet banking site. You simply have to specify which blue chip counter and what amount. The amount is deducted via Giro on the 15th of each month. And the actually buying of the shares will happen on the 22nd of each month. Any unused amount will be refunded to you via Giro.
Dividend Crediting
If the stock that you are invested in declares dividend, you will receive the dividend, in my case it was just 1 day after.

Scrip Dividend
A letter will be sent to you during the election period for you to make the selection. You will need to send that reply slip back if you want to receive your dividend in scrip. Otherwise, you can just ignore the letter.
However, I did notice that there is no option for standing instruction. So you will always have to send in a reply if you want to opt in every time.
Portfolio Friendlyness
One thing that I find lacking is, on the OCBC BCIP investment page, all I get is the Number of units, the Estimated market value and the Current unit price. I do wish it tells me what my average cost price is, and if I'm at profit or loss for this investment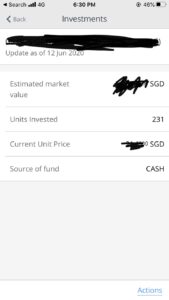 Summary of OCBC Blue Chip Investment Plan
Pros
RSP for individual stocks
Only buy/sell fee that you have to incur
Cons
The buy/sell fee is considered expensive if you are investing a smaller amount e.g. $100
You can't easily tell if you are at profit or loss from the portfolio page.
Automating my investments is one of my favourite way of investing. You set it up and just forget about it. You invest and receive dividends in your savings account without doing anything after.
The OCBC BCIP is for you if you have a individual stock that you want to buy, that is from the list of counters. And you want to make use of dollar cost averaging to average out your investment.
Lastly, it will only be worth it, if you can invest a higher amount min $500, so it reduces your buy fee to 1%. Otherwise, you will have weigh out your option if it makes sense to have a higher fee of > 1%.
You can find out more on the OCBC BCIP page.