Only 3 more weeks before the end of 2020!
Where did the year go? I have absolutely no idea. It's crazy how the year just went by. And I'm hitting the big 40 next year. 🙁
That said, I started this blog in May 2020. Had to change my domain name in Aug 2020 as I received a cease and desist email because my original domain name simplemoneysimplelife.com was similar to another website. I was debating for a while if I should ignore it and continue or get a new domain name. I went with the latter, simply because I just wanted to move on and not get suck into the whole ordeal again.
And this bring me to my portfolio review at the end of 2020.
Comparison of my current portfolio with 2019 as of 14/12/2020.
Stock
% Portfolio
(2019)
% Portfolio
(2020)
Action Taken
Singtel
10.52%
0.77%
Reduce holdings
Frasers Property Ltd
8.43%
4.74%
Reduce holdings
Manulife Reits
10.56%
7.16%
Frasers Centrepoint Trust
2.57%
5.59%
Increase holdings with rights issue
Frasers Logistic Trust
1.88%
6.18%
Merged with Frasers Com Trust
OCBC
14.85%
15.74%
Increase holdings
DBS
1.47%
16.12%
Increase holdings
IReits Global
2.35%
2.45%
Increase holdings with rights issue
Mapletree NAC
0.78%
0.48%
Jumbo
1.14%
0.83%
Prime Reits
2.63%
8.43%
Increase holdings
Frasers Com Trust
5.08%
0%
Merged with Frasers Logistic Trust
HKLand
13.73%
0%
Sold
ThaiBev
7.76%
0%
Sold
Mapletree Industrial
1.07%
0%
Sold
Mapletree Logistics
2.72%
0%
Sold
Great Eastern
6.59%
0%
Sold
Bukit Sembawang
5.88%
0%
Sold
UOB
20.51%
Added
Lendlease Reit
2.92%
Added
Keppel Pacific Oak US
4.17%
Added
CromwellReit EUR
3.91%
Added
I've been trying to streamline my Singapore portfolio to be more of a dividend portfolio. So this year, I have been sold off most of the positions that didn't align with that goal. And I added a lot of banks and REITs this year due to the market drop in March. This portfolio generated SGD$9,828 worth of dividend this year.
My Dividend portfolio consist of mainly REITs and Banks. Just like how the STI is (I'm kidding).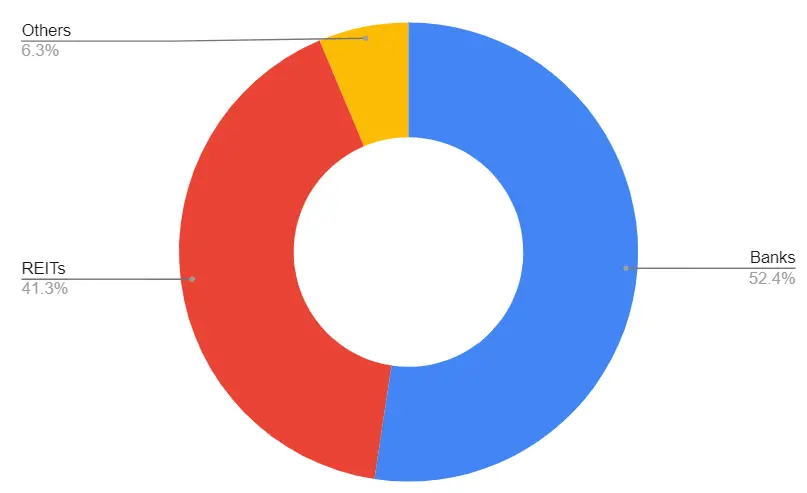 I've moved the growth component to overseas stocks and ETFs. Here's a look at my overseas portfolio.
Stock
% Portfolio
(2019)
% Portfolio
(2020)
Action Taken
Vanguard Energy ETF
13.98%
0%
Sold
Vanguard Growth ETF
10.50%
11.34%
Increase holdings
iShares Core MSCI World UCITS ETF
36.53%
18.34%
Increase holdings
Autowealth
39.00%
27.88%
Increase holdings
(monthly investment plan)
Twitter
4.85%
Added
Ark FinTech
18.17%
Added
Ark Next Gen
5.96%
Added
(fortnightly investment plan)
Vanguard Value ETF
13.37%
Added
If you follow my blog, you would know that I cut loss with Vanguard Energy ETF and switch to Twitter.
I managed to increase holdings for Vanguard Growth ETF and iShares Core MSCI World UCITS ETF when market was down. Also partly due to the fact that I received my bonus in April. So I guess the bonus came at the right time when the market was down.
With Autowealth, I just continued investing every month.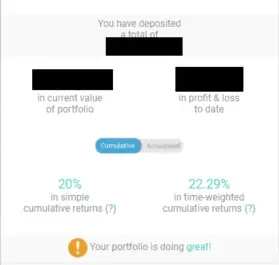 I added Ark FinTech ETF when it was at all time high, and I'm sitting at a 20% profit as of now.
I added Ark Next Gen ETF using Kristal.AI platform to buy every 2 weeks. It is also at a over 20% profit at the moment.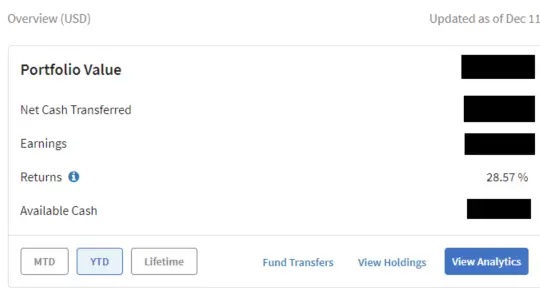 I added Vanguard Value ETF because I believe there is a rotation from Growth to Value stocks happening.
I'm also really grateful that during this pandemic, I still had a job, and therefore was able to take advantage of the market drop and continue investing.
Lastly, I truly believe that time in market is better than timing the market.