Where did all the time went? It's crazy 2021 just flew by. Time for another quarterly income update.
Alternative Income Stream
Q4 has been my best quarter with my alternative income hitting an all time high. Let's go!
Interest from CEFI (Centralized) platforms
I collect interest mainly from these 3 platforms. As you can see, I have moved away from using BlockFi now, as they kept reducing the interest rates.
Celsius
Hodlnaut
Crypto.com's EARN program
I earned a total of USD$961.75 in Q4 2021.
Staking/LP from DEFI (Decentralized) platforms
I earn staking rewards and rewards for providing Liquidity at the following platforms
Pancakeswap
Anchor
DefiKingdom
TraderJoe
Defi 2.0 protocols (ohm forks)
I made a total of USD$5,537. I'm only including amounts that I have claimed and converted them to USDC.
Ad Revenue
I'm always surprised by the revenue that I am able to generate by the stream. My payout for this quarter is USD$1,966.
When I started this blog in 2020, I had no idea that I will be making this much money from it. I remember my goal back then, was to track my FI progress, and maybe make some pocket money out of it. I'm really excited to see where this blog can take me to in the new year.
Summary
In summary, my total alternative income for Q4 is USD$8,464.75 which translate to approx. SGD$11,342.76 vs Q3's SGD$4,726!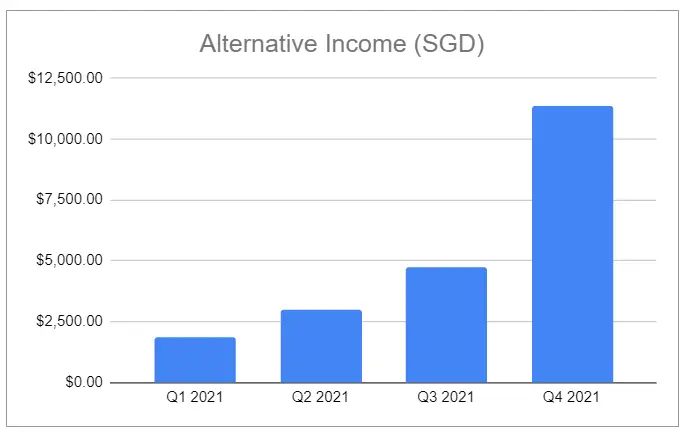 This is an increase of 140% compared to Q3's income.
In conclusion, I made a total of SGD$20,973.76 in alternative income in 2021! I am never going to be able to get that kind of increment in my job world. It pays to have alternative streams of income.
Let's see if I can maintain this in 2022! Rock on!