ARK Invest has are some of the best performing ETFs for 2020. It's no wonder that everyone wants a piece of ARK. Personally, I started investing in some of the ARK ETFs in 2020 as I wanted to add an element of growth into my overall portfolio.
How To Buy Into ARK ETFs?
ARK ETFs are listed on the NYSE Arca Exchange. As long as your local brokerage supports NYSE Arca Exchange, you should be able to buy into ARK ETFs.
In the US, ARK ETFs are available via various channels including Interactive Broker(IB), Fidelity, E-Trade, Envestnet, Schwab, TD Ameritrade and Robinhood. Most of these trading platform offers $0 trading fees.
In EU, you can buy ARKK under Nikko AM ARK Disruptive Innovation Fund. You can find out more here.
For other regions, if your local brokerage does not support NYSE Arca, you can refer to this page.
What is the Minimum Investment Amount?
A lot of brokerage in the US offers fractional shares. This include IB, Robinhood and Fidelity etc… You should check with your local brokerage to see if they offer fractional shares.
If not, then the min. investment amount will be the price of 1 unit of the selected ARK ETF.
What are the different ARK ETFs available?
In this article, we will focus on the active ETFs offered by ARK.
ARK ETFs buys companies that benefit from disruptive innovation such as TESLA (TSLA) and CRISPR THERAPEUTICS (CRSP).
Currently these are the 5 Active ETFs from ARK
There are overlaps in the companies that each ETF buys into. Below is a table based on the top 10 holdings of each ETF.

If you are unsure of which ARK ETF to buy, you can go with the ARKK (Innovation ETF). You can see that the top 10 holdings in ARKK ETF overlaps the rest of the ARK ETFs.
Expense Ratio of ARK ETFs
The expense ratio is 0.75% for all the ARK ETFs except for ARKW which is at 0.76%. This means that if you invest $10,000, you are paying $75 and $76 respectively in fees every year. These fees are deducted from the fund's net assets.
The expense ratio is higher as these funds are actively managed.
Read on if you are based in Singapore, HK or India to find out how to buy ARK ETFs on a monthly basis.
How to buy into ARK ETFs on a monthly basis
This is where Robo advisor Kristal.AI comes in. Kristal.AI allows you to buy into individual ETFs at no cost for AUM under USD$10k (except for the expense ratio of the ETF). They have quite a selection of ETFs that you can put in a Systematic Investment Plan (SIP), which is similar to the RSP.
Which ARK ETFs are available on KRISTAL AI
All tje ARK ETFs available in Kristal.AI's selection of ETFs:
ARK Innovation ETF (ARKK)
ARK Next Generation Internet ETF (ARKW)
ARK Genomic Revolution ETF (ARKG)
ARK Fintech Innovation ETF (ARKF)
ARK Autonomous Technology & Robotics ETF (ARKQ)
What is the min investment amount On Kristal AI
With Kristal.AI, you cannot buy fractional shares and your min investment for these ETFs needs to be more than USD$100. (From what I've observed on the ARK ETFs). So instead of setting an investment amount, you have to set the number of shares you want to buy every quarter/month/bi-monthly/week/daily.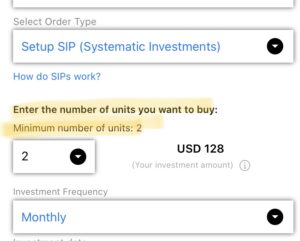 ARKK – the min is 2 shares which is equivalent to USD$176.92 (at time of writing)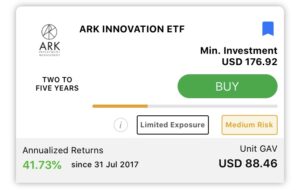 ARKW – the min is 1 share which is equivalent to USD$104.63 (at time of writing)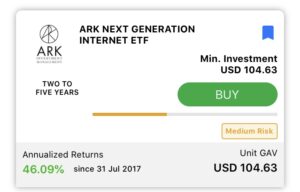 ARKG – the min is 2 shares which is equivalent to USD$121.38 (at time of writing)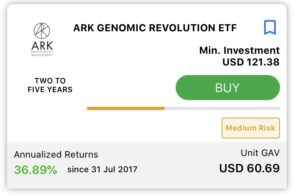 I am looking at ARKW, so the min investment amount is still do-able with the amount that I have allocated, with some buffer in case of sudden rise in GAV ?
Why did I choose Kristal.AI?
I wanted to find a RSP/SIP solution for investing into ARK etfs, one where I can just setup a recurring investment and forget about it. Honestly, I haven't found any other platforms that offers similar solution. The fact that Kristal.AI offers $0 cost and fees for AUM under USD$10k is just the icing on the cake for me.
Because ARKW focus on rather specific sector, my plan is to limit this to max 10% of my total pot.
If anyone has other ideas on how to set up a recurring investment into ARK ETFs, I'll be interested to hear about it.
Lastly, I have a referral link if you are interested to sign up with. And I'll be honest, I have no idea what's in it for you or me if you sign up via my link 😀