ARK Invest has some of the most popular ETFs focusing on disruptive innovation. If you have invested in any of the active ARK ETFs a year ago in 2020, you would have been in profit at least 70% or more. Fret not, it is always better to be late than never.
Choosing an ETF to invest in is never easy. In this post, I'll be doing a comprehensive comparison of ARKK vs ARKF. And it begs this question, which of these ARK ETFs is better?
If we look purely in terms of performance for the past 1 year, ARKK had performed better with the fund up 147.82% compared to ARKF's 125.36% gain (as of 30 Aug 2021). That is an almost 22% difference in profits. As we go through the detailed comparison, you will also see why ARKK might have been a better choice not just in terms of performance.
Overview of ARKK vs ARKF
ARKK
ARKF
Objective
Thematic multi-cap exposure
to innovation across sectors
thematic multi-cap exposure to fintech
innovations
Style
Active
Active
Inception Date
31 Oct 2015
04 Feb 2019
Expense Ratio
0.75%
0.75%
Number of Stocks
48
43
% of 10 largest holdings
51.36%
51.14%
AUM
25.52 B
4 B
As of 12 Aug 2021
Source: ark-funds.com
WHAT IS THE DIFFERENCE BETWEEN ARKK AND ARKF?
ARKK includes companies that are related to these 4 innovation sectors:
DNA technologies (''Genomic Revolution")
industrial innovation in energy, automation and manufacturing (''Industrial Innovation'')
the increased use of shared technology, infrastructure and services (''Next Generation Internet')
technologies that make financial services more efficient (''Fintech Innovation'')
You can think of ARKK as a more diversified ETF as in invests in companies across different innovation sectors.
On the other hand ARKF invests in companies that are related to Fintech Innovation such as:
Mobile Payments
Digital Wallets
Peer to Peer Lending
Transaction Innovations
Blockchain Technology
Risk Transformation
ARKK also has a larger AUM if $25.52 billion compare to $4 B in ARKF. In addition, ARKK has a longer track record as it has been incepted since 2015, compared to ARKF which only started 2 years ago.
Fund Composite of ARKK vs ARKF
Technology Breakdown
ARKK has a more diversified list of technology that it invests in.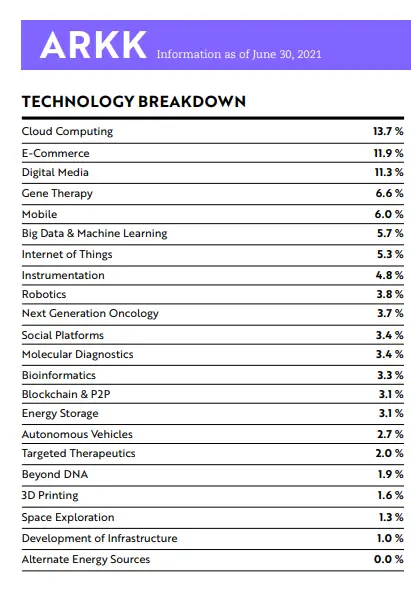 As you can see, ARKF has more focused list of tech that it is invested in.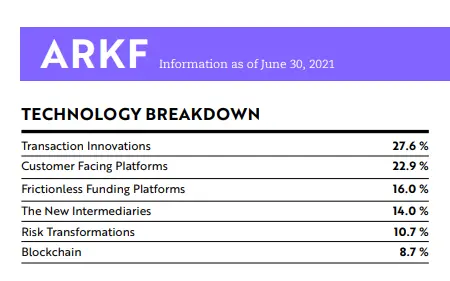 Geographical Breakdown

What's interesting here is that ARKF has 27.9% invested in companies that are from Asia Pacific. So if you are someone who wants to invest in Asia Pacific companies, then this is something to consider.
Top 10 Fund Holdings
ARKK
ARKF
TESLA INC
(10.68%)
SQUARE INC – A
(11.43%)
TELADOC HEALTH INC
(5.63%)
SHOPIFY INC – CLASS A
(6.49%)
ROKU INC
(5.35%)
SEA LTD-ADR
(4.78%)
COINBASE GLOBAL INC -CLASS A
(4.94%)
COINBASE GLOBAL INC -CLASS A
(4.76%)
UNITY SOFTWARE INC
(4.87%)
MERCADOLIBRE INC
(4.68%)
ZOOM VIDEO COMMUNICATIONS-A
(4.57%)
ZILLOW GROUP INC – C
(4.62%)
SQUARE INC – A
(4.39%)
PAYPAL HOLDINGS INC
(4.57%)
SHOPIFY INC – CLASS A
(4.17%)
ADYEN NV
(3.77%)
TWILIO INC – A
(3.7%)
TWILIO INC – A
(3.48%)
SPOTIFY TECHNOLOGY SA
(3.27%)
OPENDOOR TECHNOLOGIES INC
(3%)
51.57% of total asset
View updated full list of ARKK holdings
51.58% of total asset
View updated full list of ARKF holdings
As of 17 Aug 2021
source: ark-funds.com
From the above table, we can see that the top 10 makes up almost half of the total asset for both ETFs. This might seem like a rather extreme % for just the top 10 holdings. But it is important to remember that these ETFs are narrowly focused on disruptive innovation companies, unlike a broader global index fund.
Overlapping Counters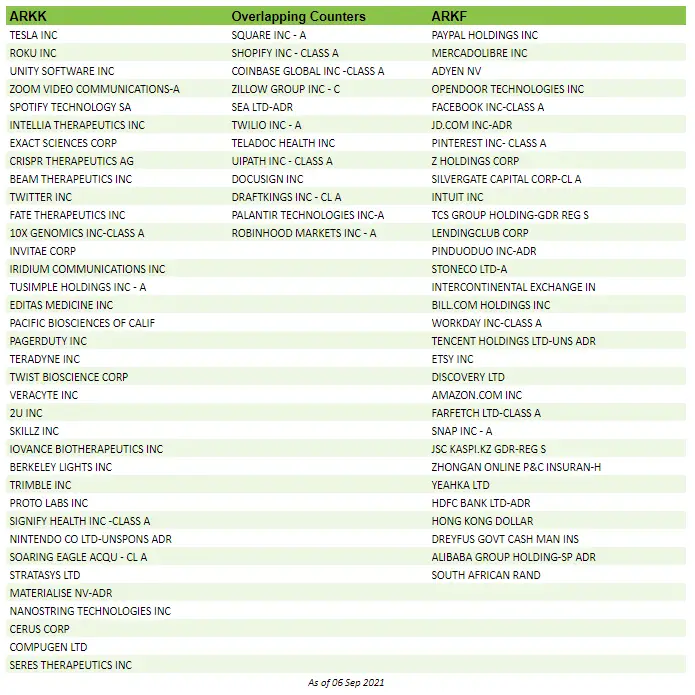 There are a total of 12 overlapping counters between ARKK and ARKF.
Performance of ARKK vs ARKF
Because ARKF was incepted only 2 years ago, this will only compare performance from the past 2 years.
Portfolio Growth
Using the Portfolio Visualizer to back test these 2 ETFs, we can compare the portfolio growth between Jan 2020 – Aug 2021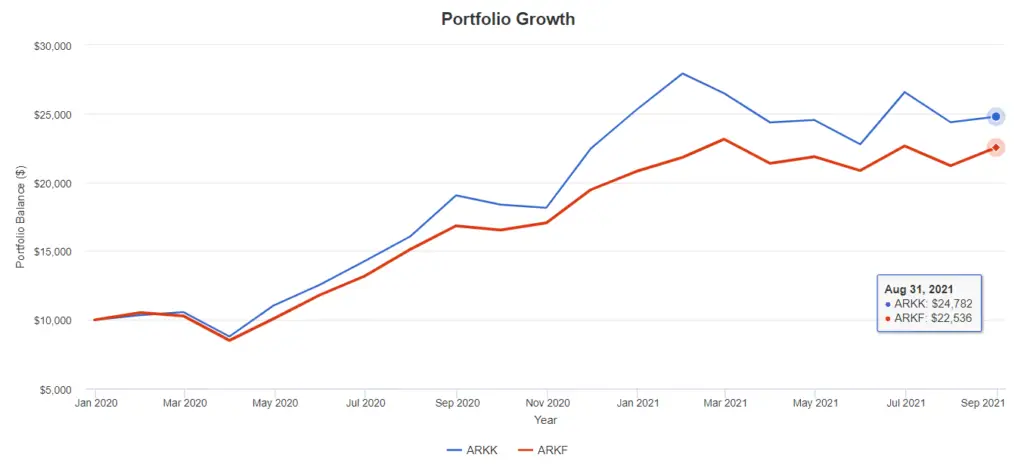 This is what you would have ended up with in Aug2021, if you have invested $10,000 at the beginning of 2020.

ARKK: $24,782
ARKF: $22,536
From the graph above, we can see that these 2 ETFs have similar growth based on the chart above, with ARKK performing slightly better.
Annual Returns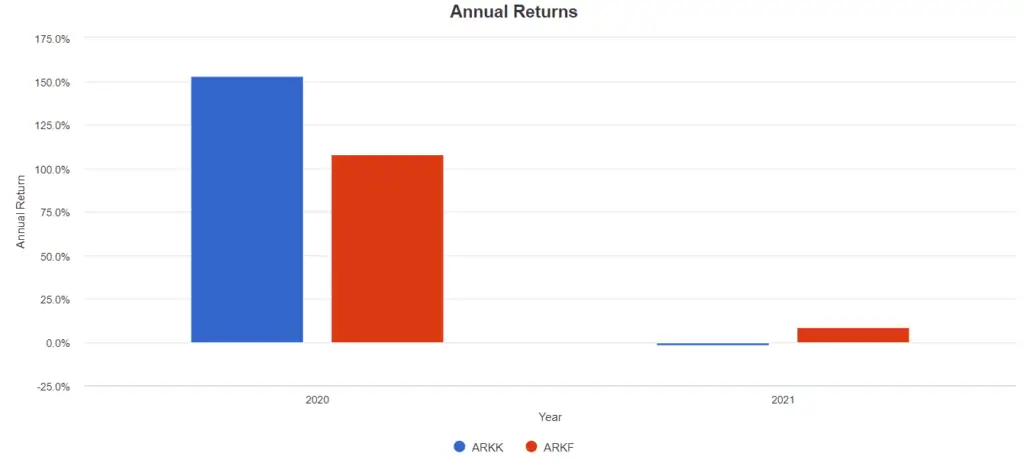 Because there is only 2 years worth of data, there isn't a lot that we can analyze. ARKK did have a better return in 2020, but is slightly lagging behind in 2021.
Conclusion
Both funds perform rather similar. However, I think ARKK is the better one here.
First of all, I liked that ARKK has a longer track record as it incepted in 2015.
Secondly, it is more diversified in terms of the innovative technology that it invest in.
Lastly, ARKF has almost 1/3 of the funds in Asia Pacific, which mostly include Chinese Tech companies. Chinese government seems to have a lot of influence on these companies, which is something I would rather not get into.
That said, both these ETFs are narrowly focused in the innovation industry, so they are considered really high risk. They can be used to complement your portfolio, but they shouldn't form the core of your portfolio.
As always, remember that Past Performance is No Guarantee of Future Results.