An Overview of ARKK vs QQQ
ARK Innovation ETF
(ARKK)
Invesco QQQ
(QQQ)
Fund Objective
Thematic multi-cap exposure
to innovation across sectors
Tracks the Nasdaq-100 Index
Fund Type
Active ETF
Passive ETF
Inception Date
31 Oct 2004
10 Mar 1994
Expense Ratio
0.75%
0.20%
Number of Stocks
52
102
% of 10 largest holdings
46.25%
50.74%
AUM
$17.68 B
$154.36 B
as of 20/01/2021
Source: ark-funds.com and www.invesco.com
ARKK does not track any index. It invests in companies that are across these 4 innovation sectors:
DNA technologies (''Genomic Revolution")
industrial innovation in energy, automation and manufacturing (''Industrial Innovation'')
the increased use of shared technology, infrastructure and services (''Next Generation Internet')
technologies that make financial services more efficient (''Fintech Innovation'')
QQQ tracks the Nasdaq-100 Index. This index includes 100 of the largest US and international non financial companies that are listed on Nasdaq based on Market Cap.
Because ARKK is an Actively managed fund, we see a higher expense ratio at 0.75% vs QQQ's 0.2%. For every $10,000 you invest, you are only paying $75 and $20 respectively each year in management expenses.
Top 10 Holdings
ARK Innovation ETF
(ARKK)
Invesco QQQ
(QQQ)
TESLA INC
(9.14%)
APPLE INC
(11.713%)
ROKU INC
(7.6%)
MICROSOFT CORP
(8.819%)
CRISPR THERAPEUTICS AG
(4.84%)
AMAZON.COM INC
(8.439%)
SQUARE INC – A
(4.67%)
TESLA INC
(5.339%)
TELADOC HEALTH INC
(4.61%)
FACEBOOK INC
(3.383%)
INVITAE CORP
(4.18%)
ALPHABET INC C
(3.184%)
ZILLOW GROUP INC – C
(3.01%)
ALPHABET INC A
(2.891%)
BAIDU INC – SPON ADR
(2.94%)
NVIDIA CORP
(2.645%)
SPOTIFY TECHNOLOGY SA
(2.72%)
PAYPAL HOLDINGS INC
(2.376%)
PROTO LABS INC
(2.54%)
INTEL CORP
(1.949%)
46.25% of total net asset
50.74% of total net asset
View updated full list of ARKK holdings
View updated full list of QQQ holdings
as of 20/01/2021
Source: ark-funds.com and www.invesco.com
ARKK vs QQQ – Performance
Using the Portfolio Visualizer to back test these 2 ETFs, we can then compare the portfolio growth between Jan 2015 – Dec 2020. The time period was constrained by the available data for ARKK (ARK Innovation ETF).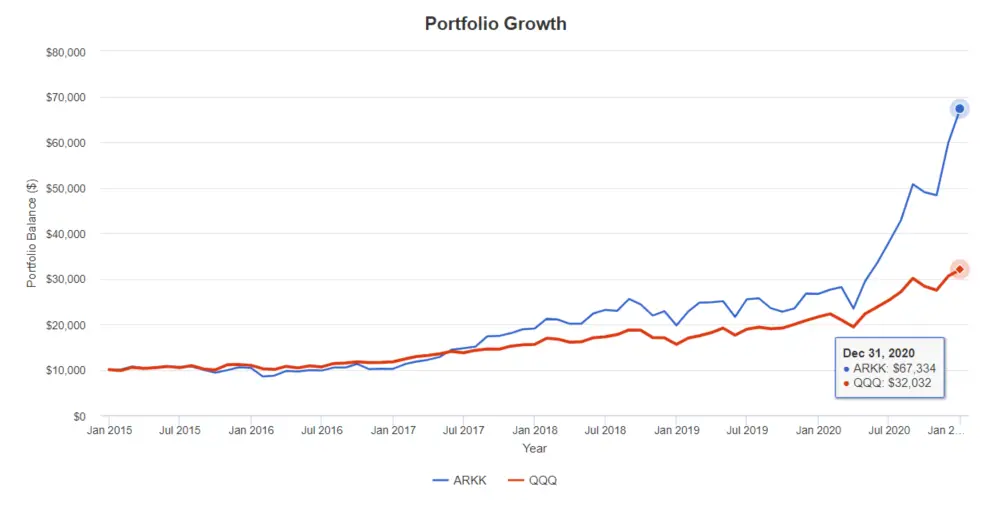 This is what you will end up with at the end of Dec 2020 if you have invest $10,000 in 2015.
ARKK (ARK Innovation ETF): $67,334
QQQ (Invesco QQQ): $32,032
This works out to be a whooping 110% more in returns if you had invested in ARKK compared to QQQ.
Annual Returns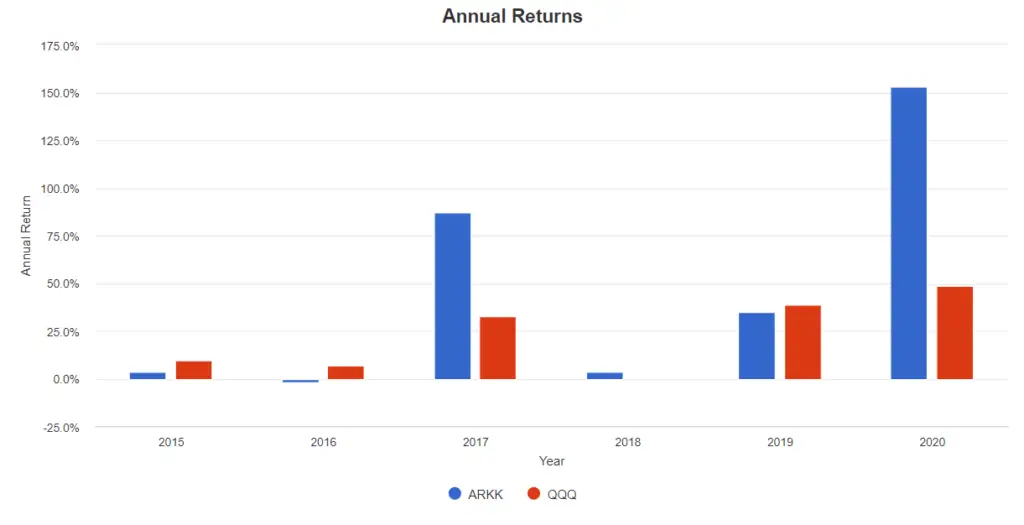 Because we only had data for the past 5 years, both these ETFs only had 1 year of slight negative returns. ARKK at 2016 had a loss of -2.00% and QQQ at 2018 with a loss of 0.12%.
Annualized Returns
| | 1 Year | 3 Year | 5 Year | 10 Year | Since Inception |
| --- | --- | --- | --- | --- | --- |
| ARKK | 152.51% | 52.36% | 45.40% | NA | 36.39% |
| QQQ | 48.63% | 27.34% | 24.00% | 20.37% | 9.38% |
as of 20/01/2021
Source: ark-funds.com and www.invesco.com
We can see the impressive runs of ARKK for the past 5 years at 45.40% annualized returns.
QQQ did really good too at 24% for a passively managed ETF. And when if we look at the annualized returns since inception (1994), a 9.38% is a great feat too.
When we compared that to the CPF rates at 2.5% (if you reside in Singapore), that is almost 3x more returns.
Conclusion – Which one is more suitable for Long Term Investing?
I'll be honest. Comparing ARKK vs QQQ is like comparing a durian to an apple. (You can't have durian everyday for a long term period, but you can have apple everyday, for as long as you want).
ARKK is actively managed by Cathie Wood. So in simple terms, she is the woman behind the success of ARKK. Cathie Wood is 65 this year (I know, you can't tell from those videos!). If you are thinking of investing in ARKK for a very long term period e.g. 20-25years, she will be 85-90 by then. I don't think she will be able to continue to actively managed these funds by then. Performance of actively managed funds are very dependent on the portfolio manager, unless the person succeeding her is as good as her, I don't think ARKK is suitable for long term investing.
QQQ, on the other hand is a passively managed fund. It just tracks the index. It doesn't depend on a single person for the performance. And also QQQ has more track record. It has a 9.38% annualized return since 1994. In this aspect, it just makes more sense that QQQ would be more suitable for long term investing.
As always, Past Performance is No Guarantee of Future Results.