[Updated 12/08/2020]
Lendlease REIT is one of the newest REIT that got listed last year in Oct 2019. It's IPO (Initial Public Offer) Price was at $0.88 per share. It was almost 15 times oversubscribed at that time.
Sponsor
Lendlease Group is an Australian listed company with a market cap of approx. A$8.38 Billion at the time of writing. Lendlease Group holds 25.1 percent of the REIT.
Lendlease is the same group that owns JEM, Paya Lebar Quarters and Parkway Parade that Singaporeans are familiar with.
Now that is a interesting Pipeline of assets that could be injected into Lendlease REIT in the future. However, from this business times article, it seems like the reason why these popular assets aren't in the REIT, is because those assets are currently held by private investors.
Quote from article: For us it's something that we will look to over time… It really comes down to our other investors and when they would like to potentially exit," he added, noting that Lendlease owns 30 per cent of PLQ. The other 70 per cent is held by the Abu Dhabi Investment Authority.
So from that, I can imagine, it won't be anytime soon, that we will see these popular assets get injected into the REIT.
Asset Geography
Lendlease REIT holds 2 assets, 313@Somerset in Singapore and Sky Complex in Italy.
313@Somerset, Singapore
313@Somerset is a prime retail property located at Orchard Road. The mall sits just above the Somerset MRT.
According to the 3Q FY2020 Financial Results, the committed occupancy rate remains at 99.2%.
It has a WALE (weighted average lease expiry) of 1.8 years by GRI (Gross Rental Income).
Sky Complex, Milan
The Sky Complex comprises of 3 office buildings, and is accessible by the public transport system. It is leased to Sky Italia, owned by Comcast Corporation.
According to the 3Q FY2020 Financial Results, the committed occupancy rate is at a whooping 100%.
It has a WALE of 12.1 years by GRI.
Sky Complex operates on a triple-net lease structure.
From Investopedia: A triple net lease (triple-Net or NNN) is a lease agreement on a property whereby the tenant or lessee promises to pay all the expenses of the property including real estate taxes, building insurance, and maintenance.
In short, this means, the tenant will bear all operating costs of the building.
Sector Breakdown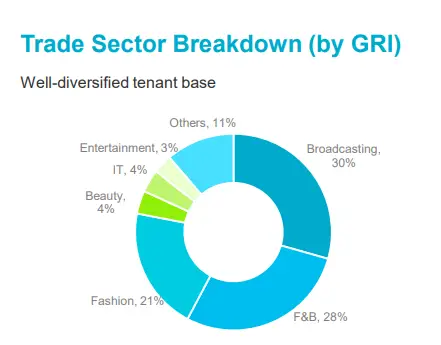 Financial Performance
4Q2020 Results
As expected, the 4Q FY2020 distribution per unit is down 62.7% against Forecast. FY2020 distribution is down 19.7%.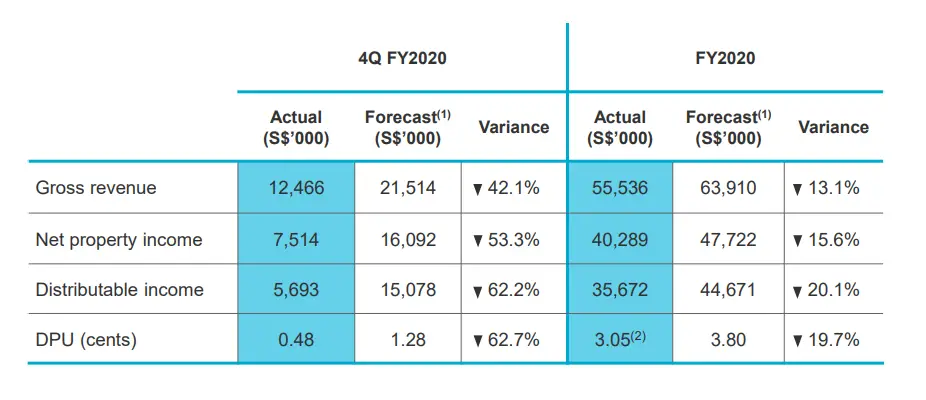 NAV Per Unit increased to $0.85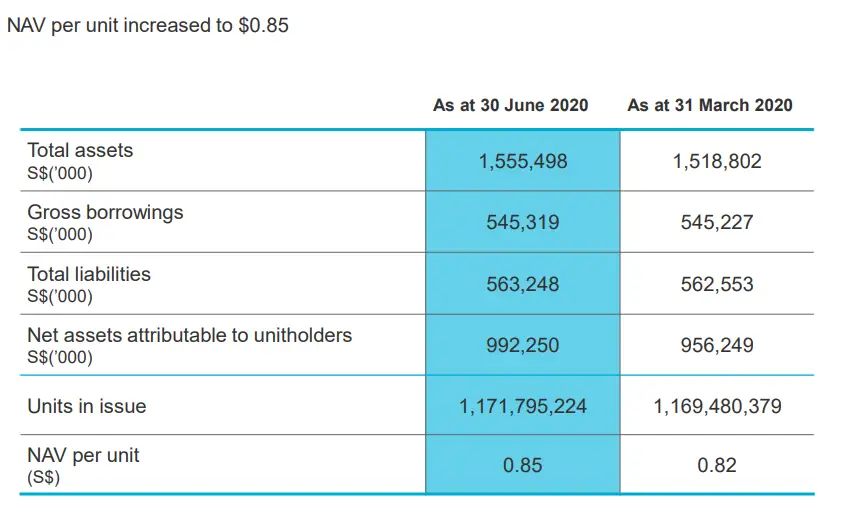 Based on the below graphs, we can see that the revenue/income from Sky Complex remains stable. 313@Somerset is very much impacted by circuit breaker that happen from Apr to May.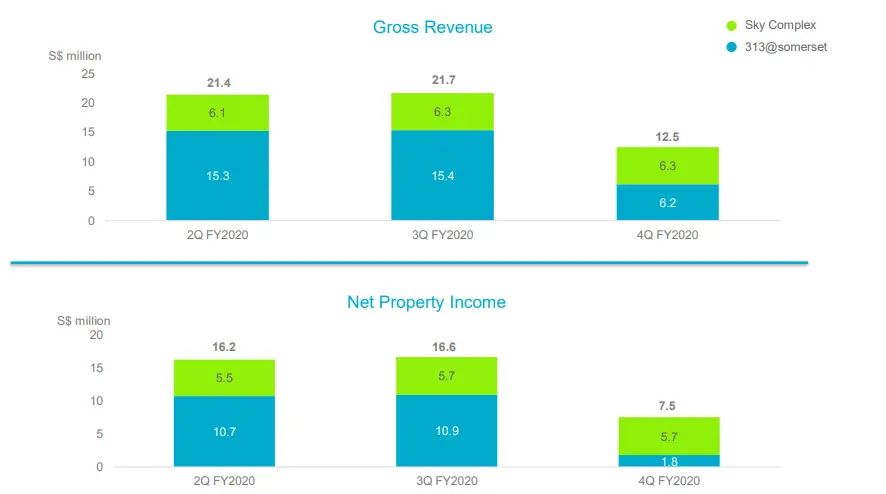 3Q2020 Results
According to the 3Q FY2020 Financial Results, the 3Q FY2020 distribution per unit is up 0.7%. Oct to Mar 2020 distribution is up 1.9%.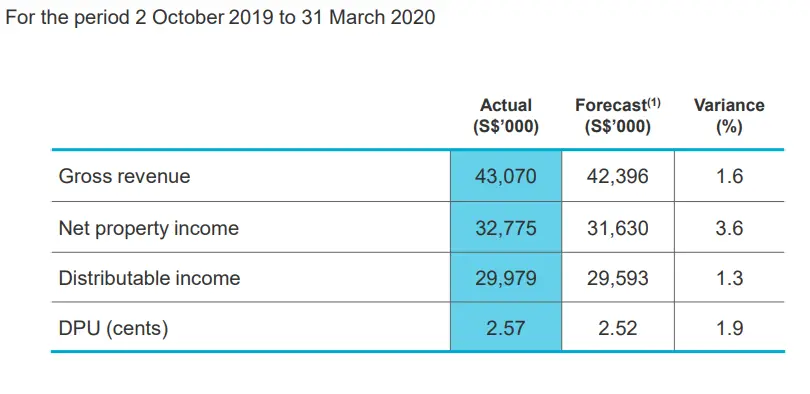 NAV Per Unit remains stable at $0.82.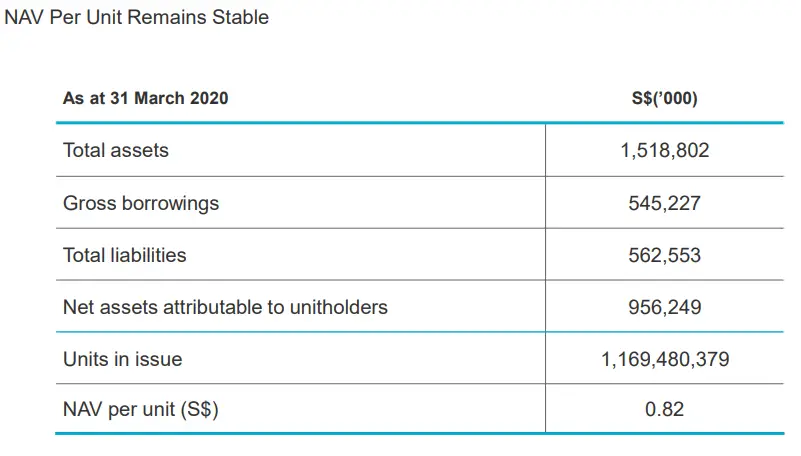 What would be interesting is the next Quarter's Financial Results Apr – Jun 2020. Because this period is when the Singapore circuit breaker and the global lockdown was put into place.
Cost of Debt is only 0.86% p.a. Cheaper than the HDB loan that we get 🙂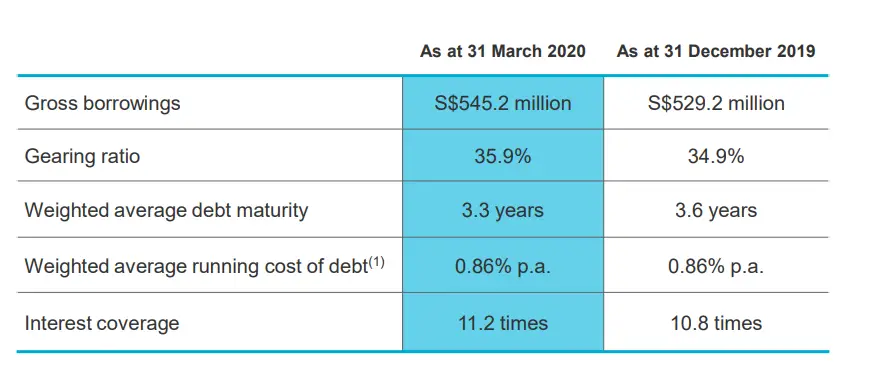 Is Lendlease REIT still a good buy?
[As of 12/08/2020]
At the current price of $0.63, this is at a 28% discount from the IPO price of $0.88.
As expected previously, the income from Sky Complex remains stable. And income from 313@Somerset decrease quite significantly.
A question to ask is, what has changed since the IPO time, and can Lendlease REIT return back to its old IPO days?
My take is if you are considering buying Lendlease REIT, you should be considering holding it long term, till we ride out this Covid-19 situation.
Full Disclosure: I am long on Lendlease REIT. This is not a recommendation to buy or sell.