I've been using DBS remit to convert my SGD to USD and sending it over to Blockfi. I wonder if there is a better way to do it, so that I get more favorable rate than the DBS exchange rate.
I know Transferwise offers very competitive exchange rate. So I decided to try Sending SGD to Transferwise -> Converting to USD -> Sending USD back to DBS USD Account.
In case you are wondering, why don't I just use Transferwise to remit directly to Blockfi? Here's why.
Pre-requisite
Opening a Transferwise account: This was all done online, and I got my account opened within a day. If you are interested in opening one, here's my link to signup, where you get free international transfer of up to SGD$900.
Opening a USD Account with DBS: DBS has this multicurrency account called MY ACCOUNT. There is no minimum balance, no initial deposits, or fall-below fees, ever. You can instantly open one via online banking services.
1. Sending SGD to Transferwise
On Transferwise, you initial a Add funds to your SGD account. You can then make payment via these options:
PayNow (0 fee)
Manual transfer from bank account (0 fee)
Debit card (2.62% variable fee )
Credit card (2.62% variable fee )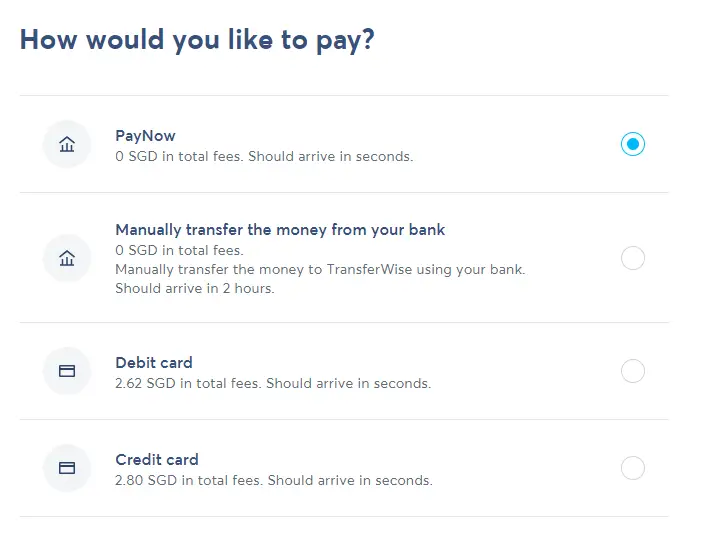 2. Converting SGD to USD
Transferwise charges a conversion fee of 0.44% for SGD to USD conversion.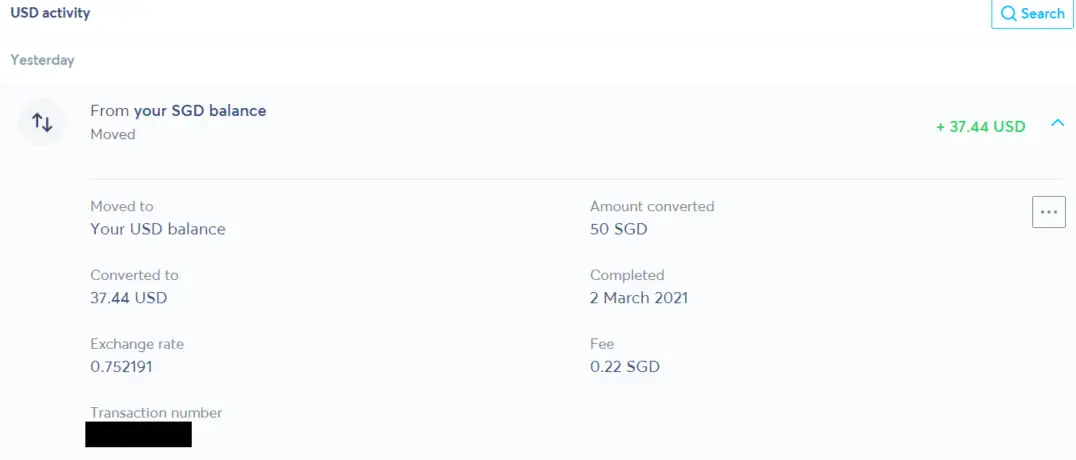 3. Sending USD Back to DBS USD Account
In my example, I sent USD $57.44 back to my DBS USD Account. And I ended up with USD $41.56 in my account.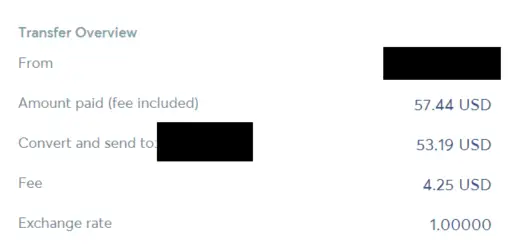 Breakdown of fees incurred during transferring of USD back to DBS Account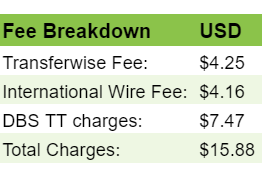 Exchange rate comparison between Transferwise vs DBS
This rate was captured at the point of writing this article
Transferwise Rate: 1 SGD = 0.75050 USD
DBS Rate: 1 SGD = 0.745299 USD
We can see that Transferwise offers a more favorable exchange rate.

In this case, is it better to go through the route of Sending SGD to Transferwise -> Converting to USD -> Sending USD back to DBS USD Account -> Remit to Blockfi?
Let's look at the total fees that you will incurred with Transferwise.

Conclusion
Based on the tables above, we can conclude that if you are only sending smaller amount, just go with DBS Remit.
But if you are sending $10,000 or more at once, Transferwise might be a cheaper option here.
Lastly, if you are interested in opening a BlockFi account, you can sign up via this referral link. You will get USD$10 in BTC when you deposit USD$100 or more into your BlockFi Interest account.
Other Crypto articles you might be interested in: