With the bank interest rate at less than 1%, I'm always on a lookout for ways to earn more interest. In the Crypto world, earning at least 7% APY on your Stable coins is quite common. These CEFI platforms provides that.
BlockFi
Celsius
Hodlnaut
USDT
0 – 50,000 USDT – 7.5%
> 50,000 USDT – 5%
8.88%
0 – 25,000 – 12.5%
Next 75,000 – 7.25%
Next 400,000 – 4.60%
> 500,000 – 3.04%
Free withdrawals
1 free crypto and stablecoin
withdrawal per month
unlimited free withdrawals
Withdrawal fees applies
Rates are as of 21 Jul 2021
As always, here are my referral links if you do decide to sign up with the any of the above platforms

BlockFi – You get $10 worth of BTC when you deposit $100.
Celsius (Enter referral code: 154600a7b2, if link doesn't work) – You get $40 worth of BTC when you deposit $400.
Hodlnaut – You get $20 equivalent for your initial deposit of at least USD1000 on any of our supported assets.

These are accurate as of 21 Jul 2021
Disclaimer: As with all Defi platforms, there is always protocol risks, and with UST(TerraUSD), there is an additional de-pegging risk you have to take note. This reddit thread provides a lot of information on the risks, so always do your own research before putting money in.
How to buy UST (TerraUSD)?
There are a few ways to do this.
Buy UST in Kucoin -> Send UST to TerraWallet
Buy Luna in Binance -> Send Luna to TerraWallet, use Terraswap to get UST
Buy UST in Binance -> Send UST to TerraWallet
Have BUSD/USDT in BSC (Binance Smart Chain) in your wallet -> Use pancakeswap or 1Inch exchange to swap UST -> Use Terrabridge to bridge UST over to Terra network.
If you are from Singapore and want to buy UST using SGD, then check out this post.
Buying UST with Credit card. (this is my preferred way to on ramp fiat into Terra wallet)
In this guide, I will go with option 3, because I already have BUSD in BSC in my wallet.
If you want to onboard USD to your crypto wallet, you can wire USD to FTX.com (referral link), then then withdraw BUSD via BSC network to your crypto wallet.
Before starting, make sure you have Terra Station installed. You can download from https://www.terra.money/.
You will also need some BNB in your wallet for transaction fees.
Part 1: Using Pancakeswap to swap BUSD to UST
You may be prompted to import the UST token if you haven't already done that.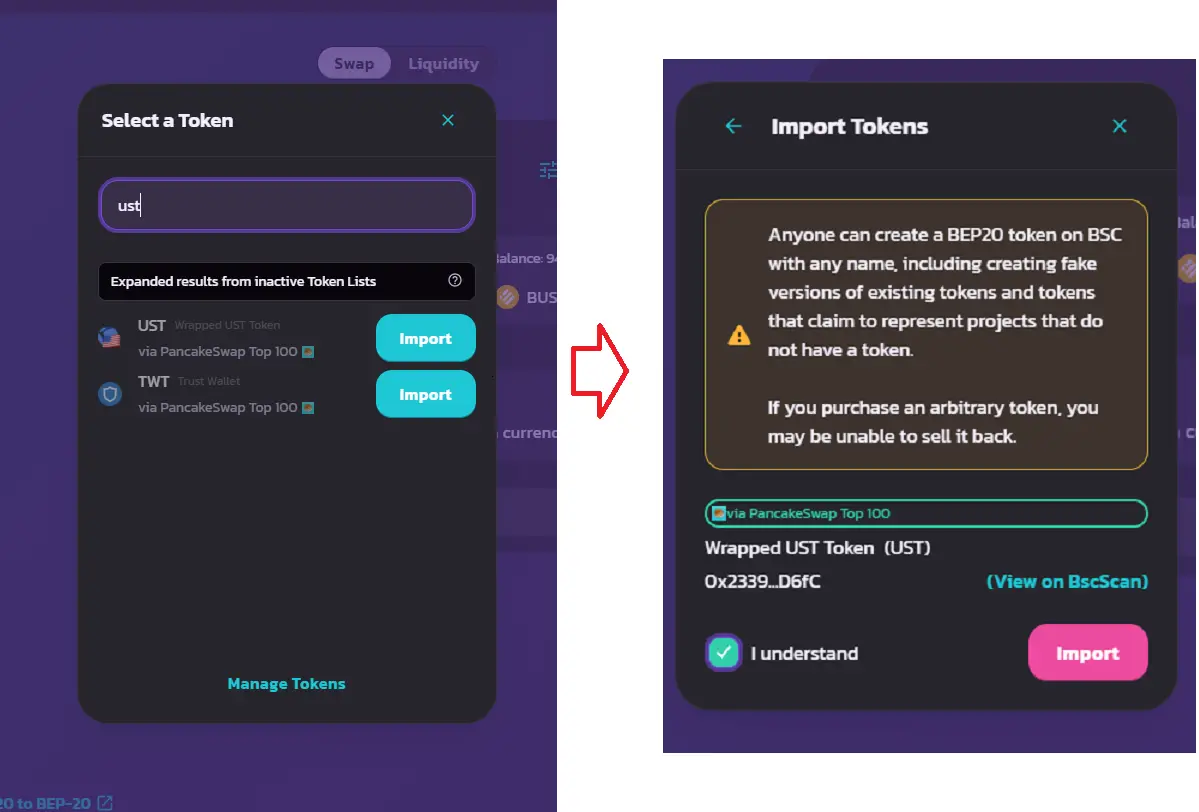 2. Enter the amount, and Approve BUSD, and Confirm the transaction on your Metamask then wait for the transaction to complete.

3. Once the Approval is done, go ahead and Swap -> Confirm Swap
The amount will be lesser than the BUSD provided because of slippage, and LP fee.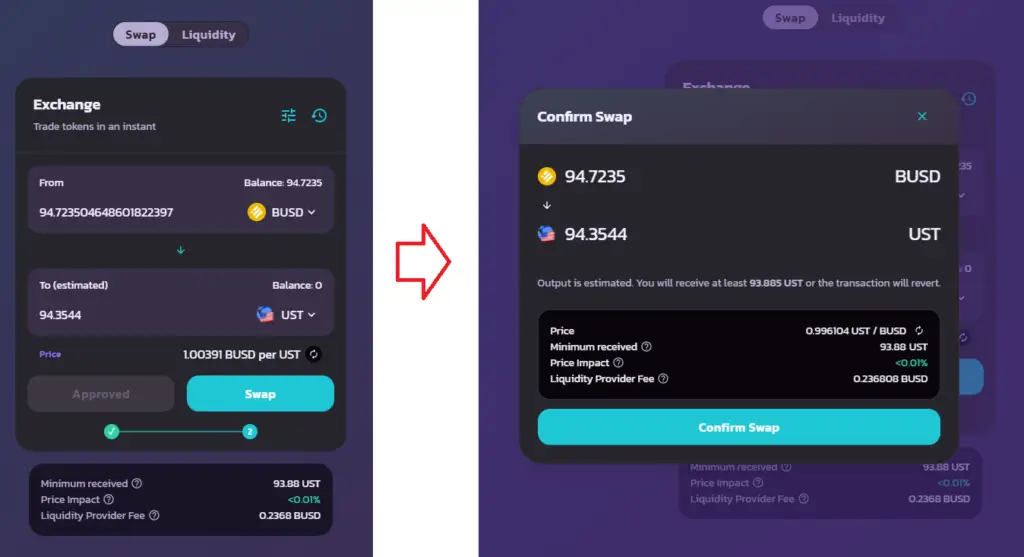 4. Confirm the transaction on your Metamask, and wait for transaction to complete. Meanwhile, go ahead and Add UST to Metamask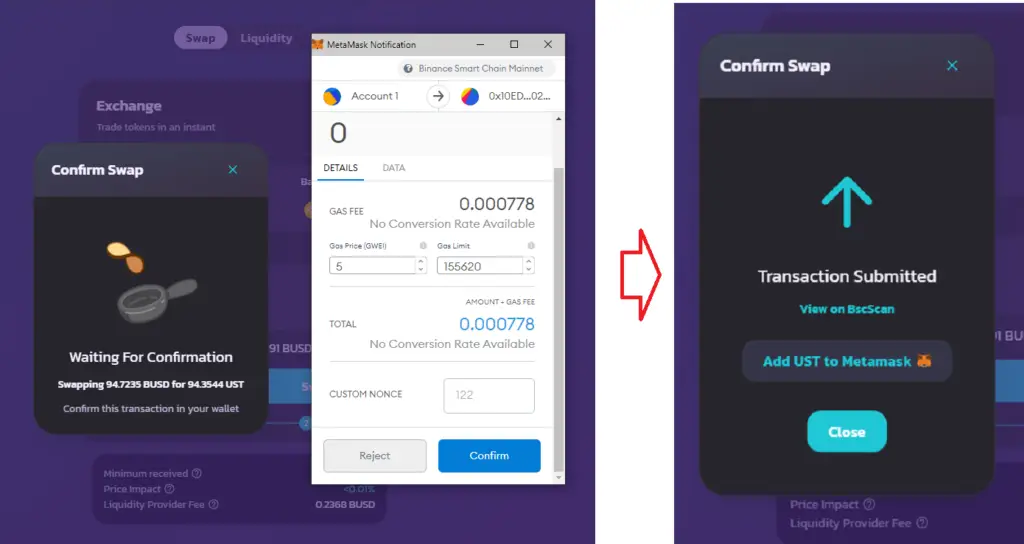 5. Add Token, and once the above transaction is completed, you should see the UST in your wallet.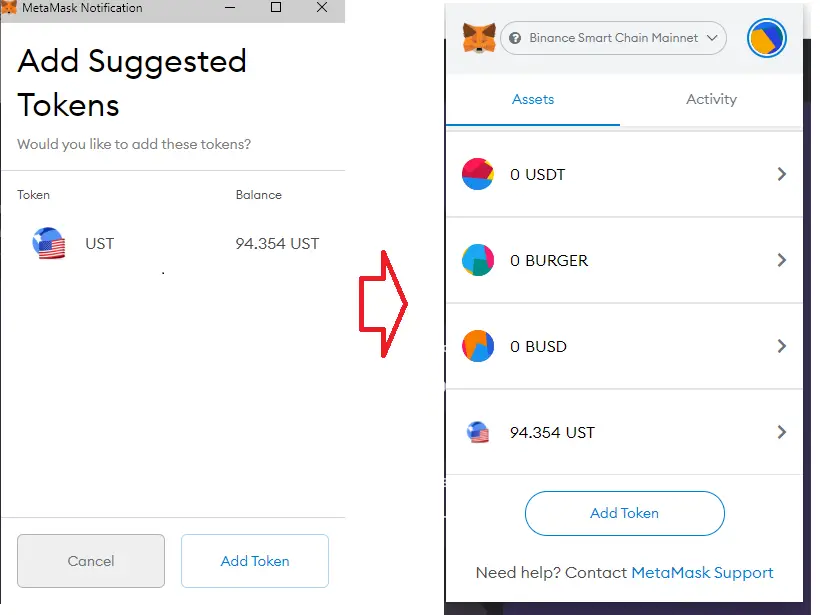 Part 2: Using Terrabridge to bridge your UST to TerraNetwork
You now have some UST in your wallet. However, these are wrapped UST sitting in the Binance Smart Chain network. You won't be able to use these in Anchor, until you have bridged them over to the Terra Network.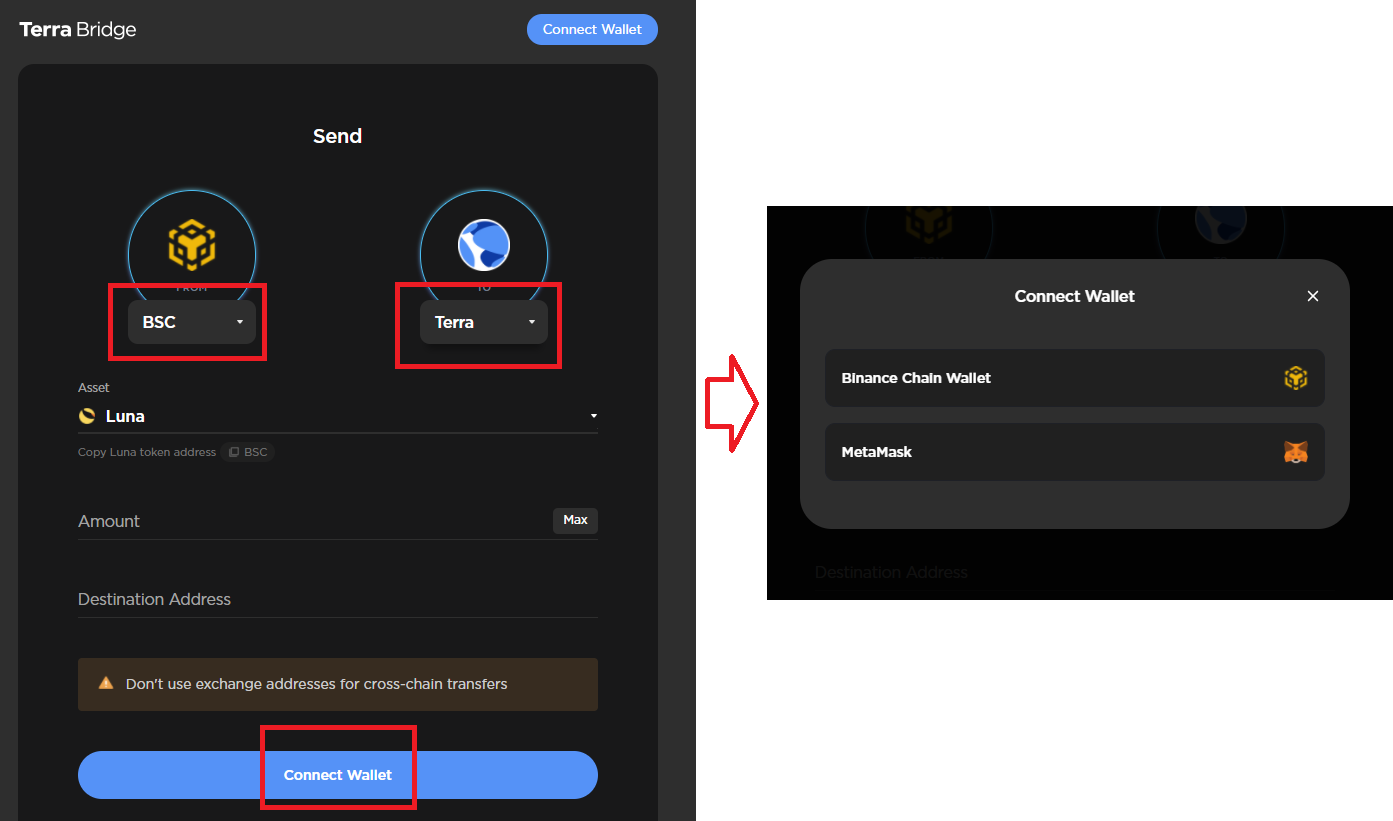 2. Select UST as the Asset, enter Amount. In the Destination Address, enter the Terra Network address. You can find this address from Terra Station.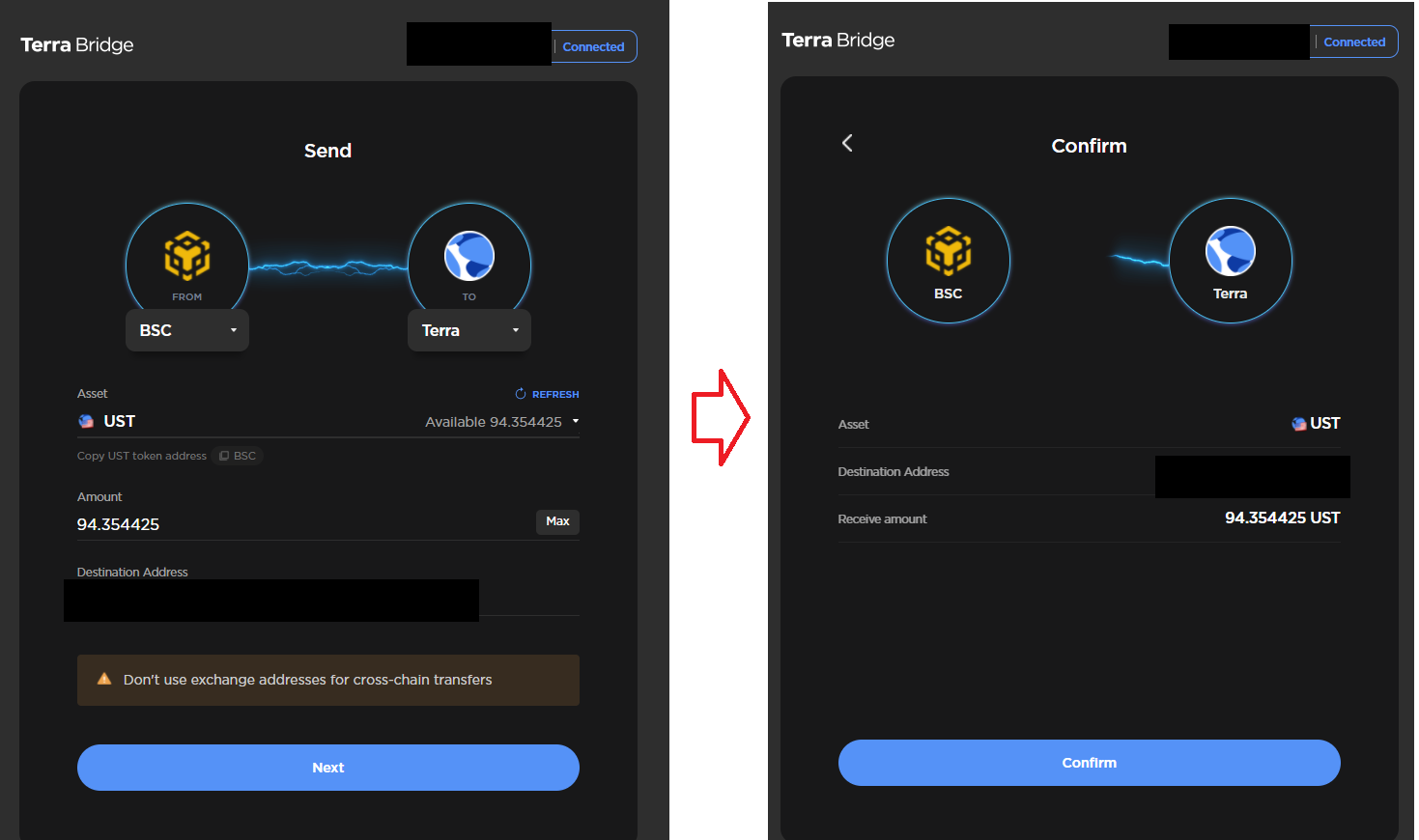 3. Once transaction completes, you can view History from your Terra Station to confirm that the UST has arrived at your Terra Wallet.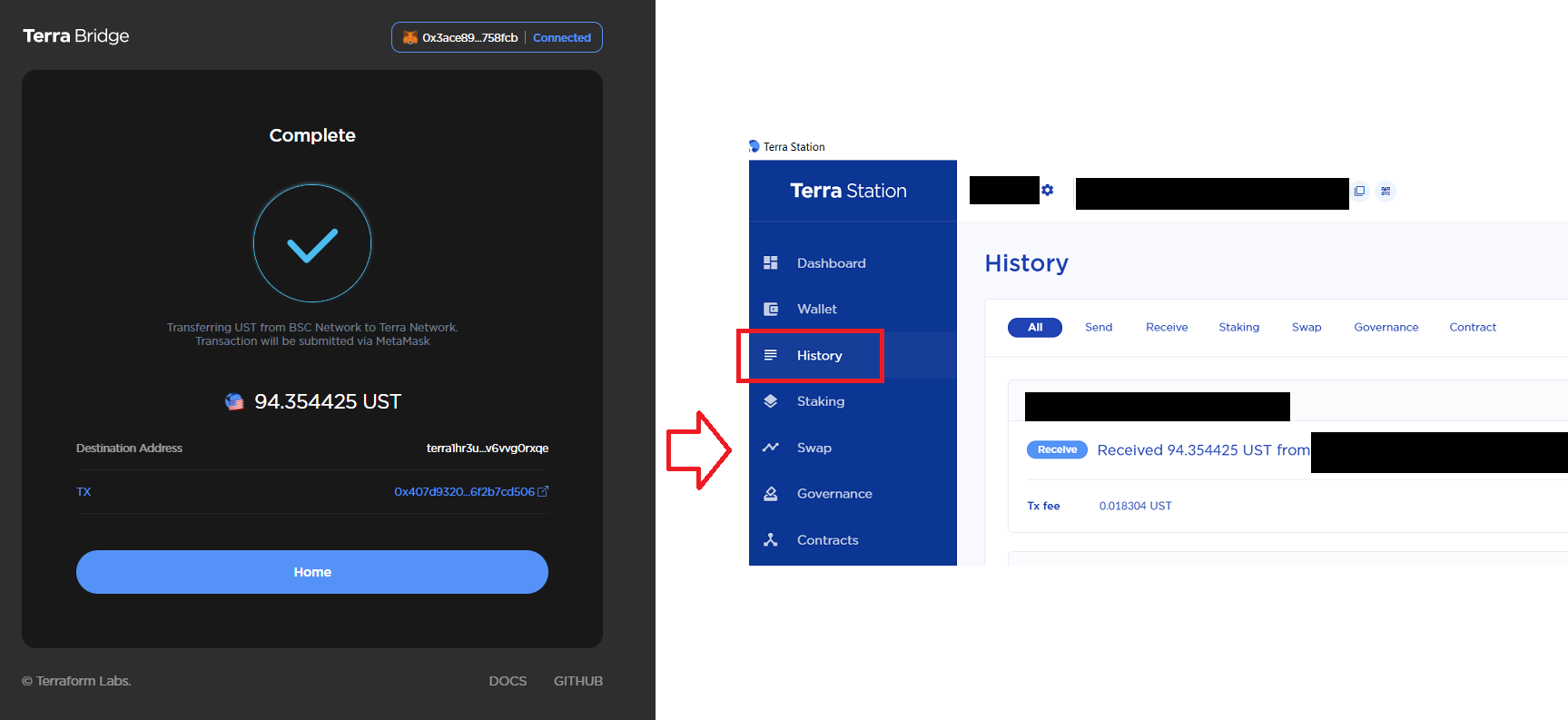 Part 3: Deposit UST on Anchor Earn
Remember to leave some UST for transaction fees purpose.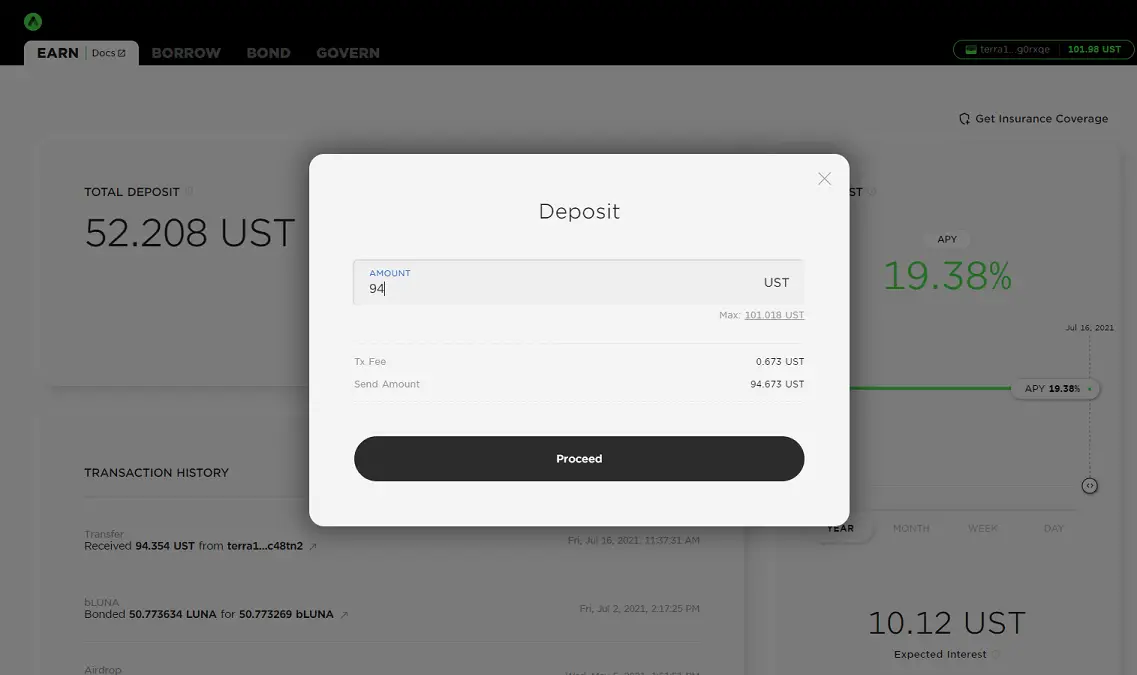 2. Confirm your transaction.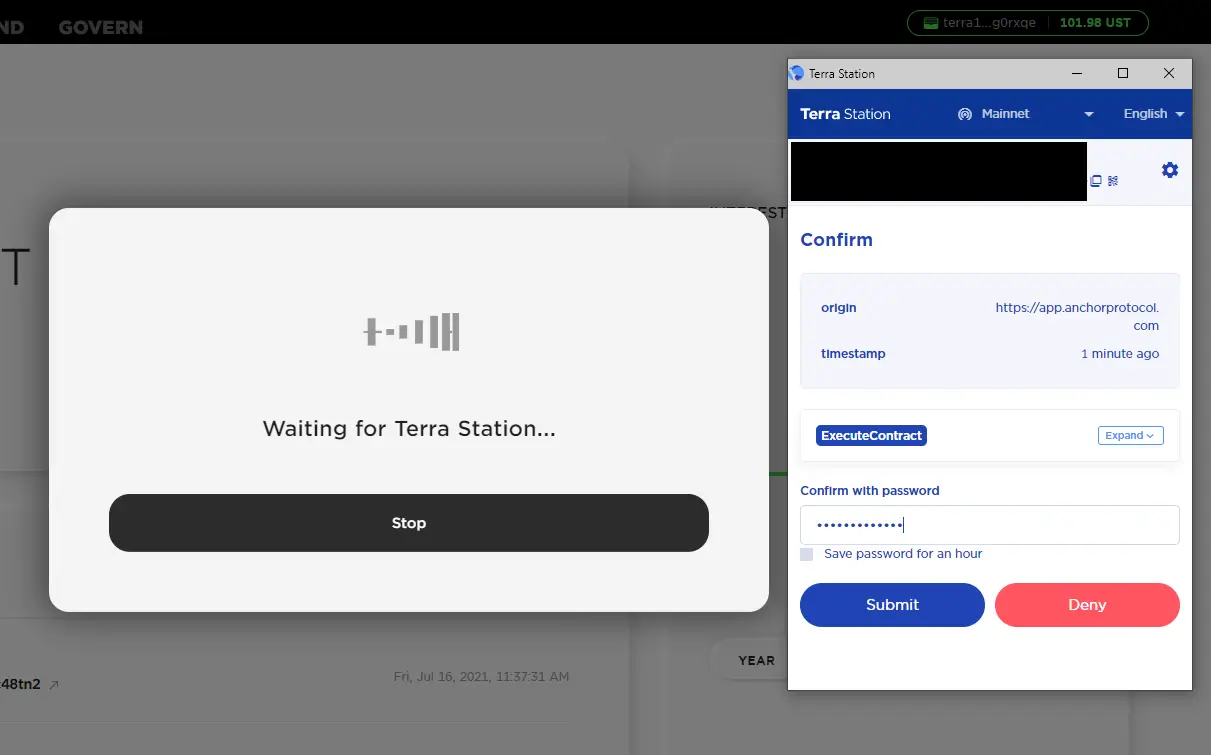 3. Wait for Transaction to complete. You will receive aUST in your Terra wallet.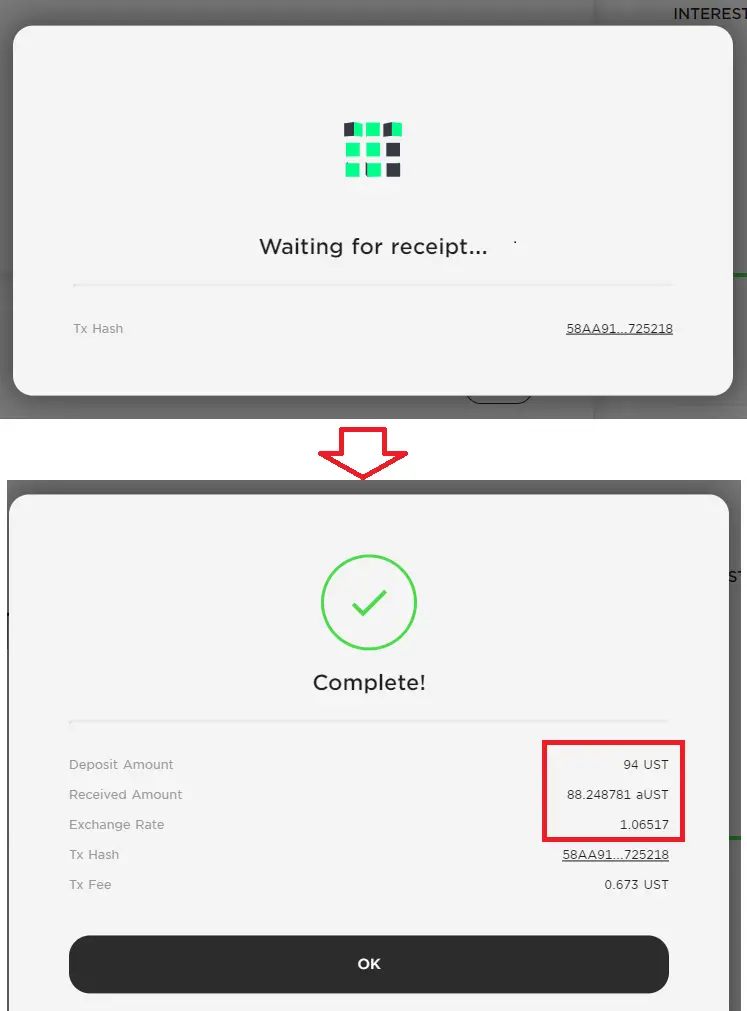 If you are wondering why the aUST received is not 1:1, read on.
aUST and UST

When Anchor was launched, 1 UST = 1 aUST. Now, however, when you deposit UST on Anchor, you get some aUST (always a lower number) back. aUST earns interest every 6.4s (block time) so it's always increasing in value; it's rate is adjusted every epoch (~3h). This is why when you deposit now (months after Anchor has started), you get "less" aUST; because it has grown in value. So after a while, when you decide to "sell" your aUST (when you withdraw your deposit), it will always be worth more in the future than when you deposited.

Anchor Protocol's discord channel
aUST is a UST + interest earned token, so the value of aUST will increase over time as explained above.
Hope this helps!